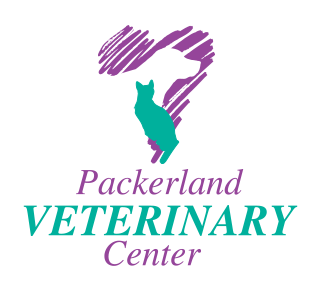 OUR TEAM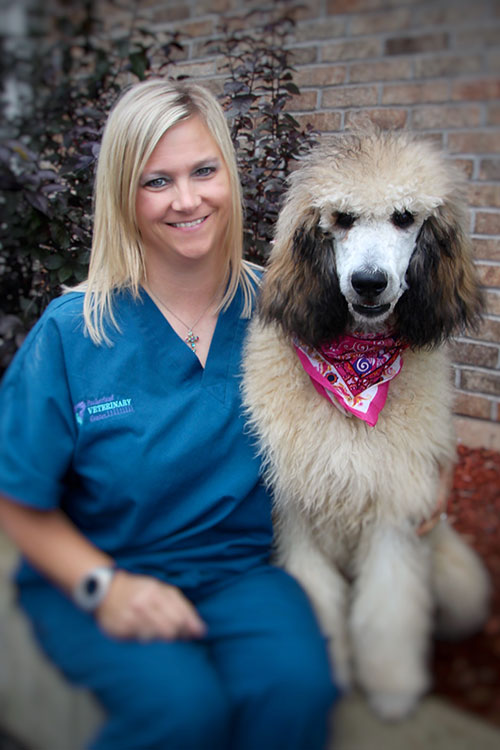 Chanda
Certified Veterinary Technician and Hospital Administrator
Ever since she was a child, Chanda Holschbach had a passion for learning about, helping and loving animals. Her mother's nursing background laid a foundation of "bedside manner" and her father's entrepreneurial business background provided a real understanding of economics.
A graduate of the University of Minnesota with a degree in Animal Health, family ties brought Chanda back to Wisconsin. She began her tenure at Packerland in 1993 and purchased the clinic in 2007.
Her strong understanding of the business end of the clinic, in addition to her hands-on work with families and their pets, created the perfect recipe for Chanda to pursue the next level of patient care.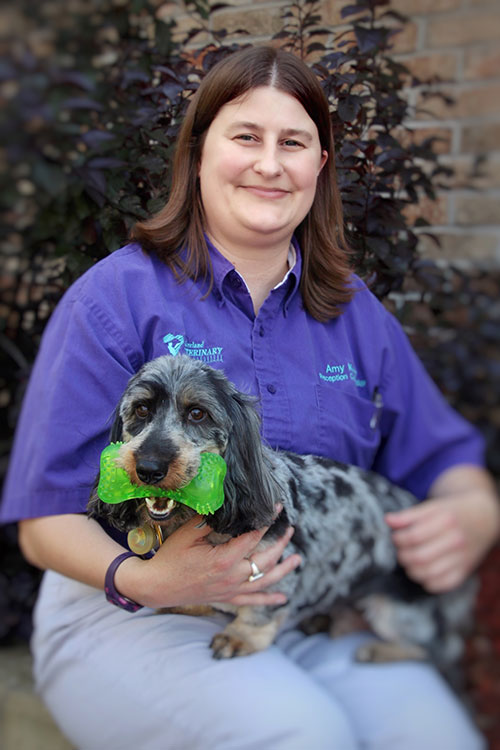 Amy K.

Reception Coordinator
Amy is Packerland's Reception Coordinator and has been with us since 2002. She currently has one dog and 3 cats: Skips, Jordan, Daffodil and Cheddar. Amy was born and raised in Green Bay. Amy loves nature and all the beauty it provides and has the privilege of living on the water which allows her to enjoy many amazing sun rises and sunsets. When she is not working here, she volunteers her time for Keshena Animal Help & Rescue working with their spay/neuter/vaccination clinics.
Julie
Receptionist
Julie was born here in Green Bay and, after graduating from high school, joined the US Army. She was enlisted for 12 years and is a veteran of the first Gulf war. One of our longest tenured employees, Julie has been a part of our Packerland team since August of 1998. She enjoys the challenge each day presents – learning new things, meeting new people and their pets and working closely with the staff. She loves spending time with her husband Rick and pets: a cat named Karma and new dog Rusty. She loves living out in the country in their new home.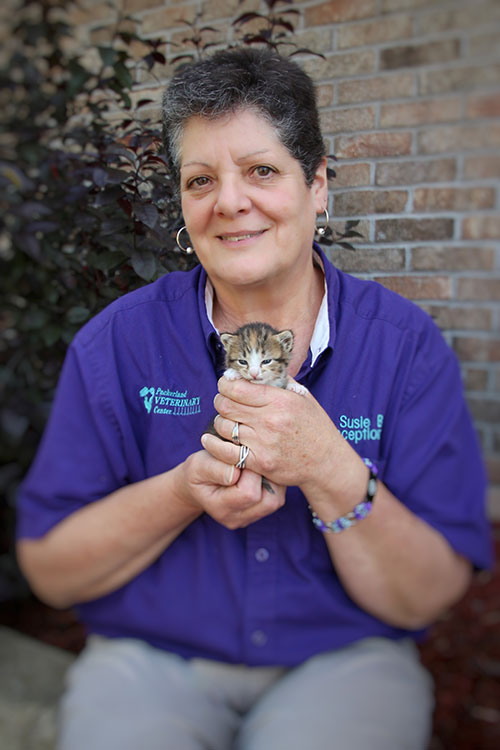 Susie
Receptionist
Susie joined the PVC family in 2014, but brought with her over 30 years of experience in veterinary reception and assisting. As a coast guard wife for 23 years, she moved every 4 years while on active duty and has been in the Green Bay area since 2000. She has 3 grown kids; a daughter and twin boys. Susie is crazy about her family! Her extended household includes her daughter Kat, her son Jason, his wife Liz and their very adventurous kiddos Tanner and Lexi. She has found a home at PVC and her knowledge and experience adds so much to our patient and client care.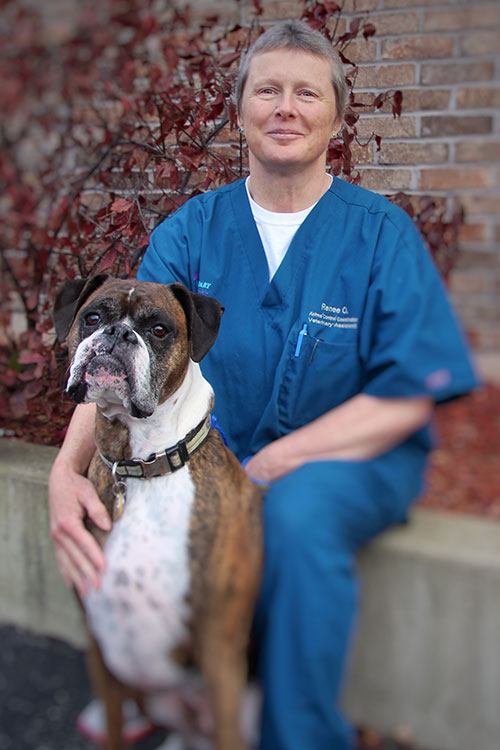 Renee
Receptionist and Animal Control Coordinator
Renee was born and raised in Shawano, WI and has worked in animal care and sheltering since the mid 1980s with a special interest in fostering orphan and special needs animals. She has been at Packerland since 2006 and enjoys the variety that each day brings. Her hobbies include gardening, reading and volunteering. Pets at home include cats Mercury and Gizmo, Boxer Reese, birds and a koi pond.
Cerissa
Receptionist
Cerissa (C.C) has a full, happy household of pets with her husband Dan. Tommy, their 7 year old Shepherd mix, is a devoted older brother to Frankie, their 5 year old Sharpei mix and Perdita (Perdy) their 1 year old Blue Merle Golden Doodle. They fostered Tommy as a puppy, eventually adopting him, and Frankie is sweet but energetic girl that joined them two years later. Perdita came to the family in 2021 at 8 weeks old and has completed their very hairy household. Their three cats consist of 'big girl' Mimi, Sugar (who is as sweet as her name), and their petite but feisty Jewls.
The animals will often find a soft spot to lay in C.C's crafting room while she sews, or get under her feet to beg for veggies when she makes dinner at night. In addition to her pets, C.C. has a passion for Monarch butterflies. In the summer, she raises them from caterpillar eggs to butterfly. To date she has released over 700 into the wild!
When you visit Packerland Vet, don't forget to say hi to Junior, the cockatiel in the lobby. He has been in her family for 10 years and is now also an extension of the clinic family as well.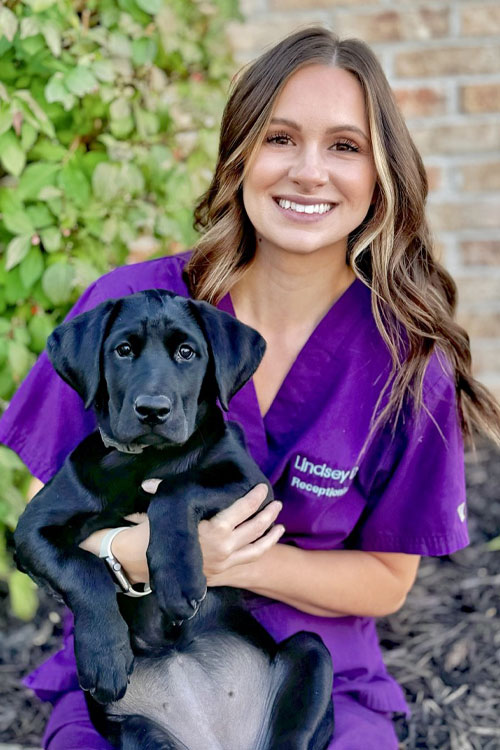 Lindsey
Receptionist
Lindsey grew up in the UP where she graduated from Iron Mountain High School. In 2019 she moved to Green Bay and started working at Packerland to pursue her passion of working with animals. When she is not working she enjoys spending her time outdoors and with her family.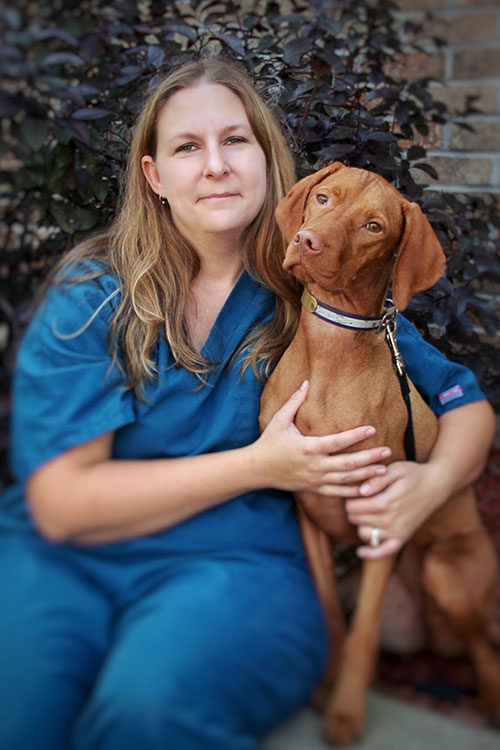 Jessi
Certified Veterinary Technician
Jessi graduated from Madison Area Technical College in 2002 and quickly joined the Packerland team. She enjoys the variation in the everyday work environment that veterinary medicine brings. Jessi has three cats and a Vizsla, Paisley, and enjoys spending time outdoors with her husband and son in her spare time.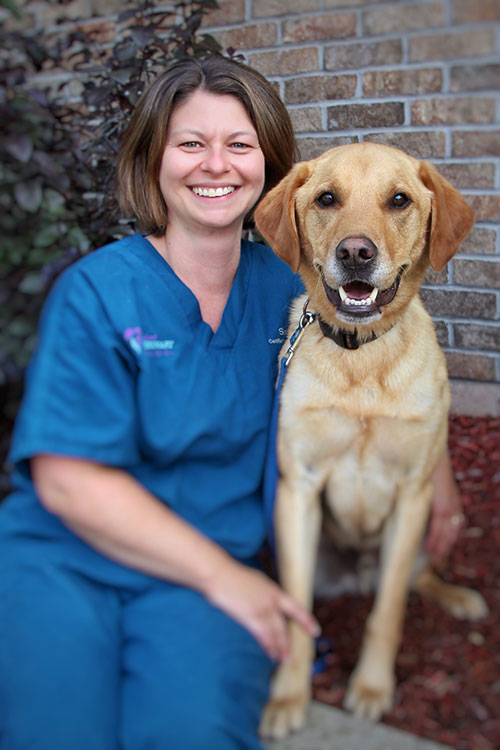 Sarah I.
Certified Veterinary Technician
Sarah graduated from UW-Platteville with a degree in biology in 2000. After graduation, she moved to Green Bay and started working at PVC. In June 2003, she passed the National Veterinary Technician exam and has since helped to start our Physical Therapy/Rehabilitation program. She enjoys traveling and spending time on the lake at the cabin with her husband and sons. She shares her house with her yellow lab Si and a senior cat Chuck who she took in when a good friend passed away.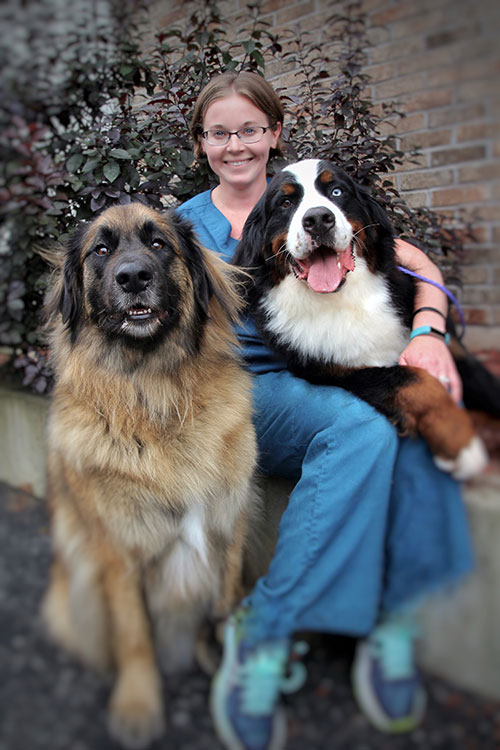 Sarah G.
Certified Veterinary Technician, Treatment Supervisor
Originally from Green Bay, Sarah moved back to the area in 2003 after graduating from UW-Madison with degrees in biology and environmental studies. She started working as an assistant at PVC in 2004 and obtained her Veterinary Technician certification in June of 2007. When she's not working, Sarah enjoys spending time with her husband, two kids and pets at home: Bernese Mountain Dog Baden, corn snake Elote and orange kitties Badger, Drekker and Festus. She loves traveling, anything outdoors and, of course, cheering on the Badgers!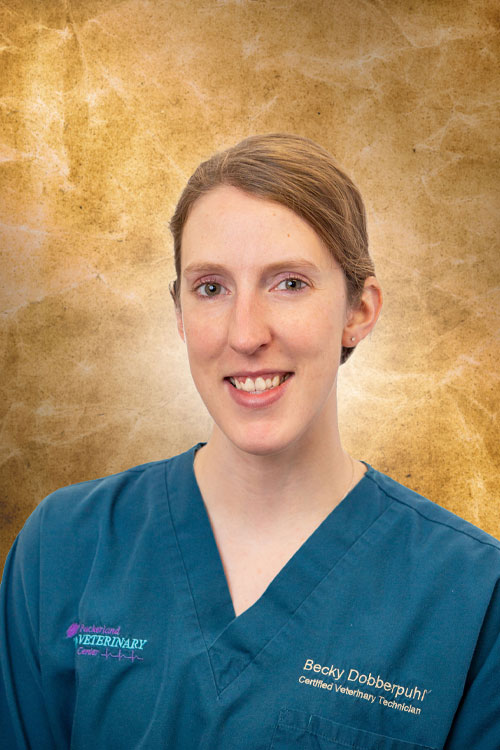 Becky
Certified Veterinary Technician
Becky grew up on a farm in the town of Shirley which lead to lots of early experience in animal care. After graduating from De Pere High School it was only natural for her to transition to Madison Area Tech where she received her veterinary technician training. She has two cats at home, Henry and Aggie. When Becky isn't helping out on the family farm or spending time with nephews she enjoys reading, painting, baking, decorating cakes and video games in addition to many outdoor activities such as swimming, 4-wheeling, snowmobiling and jet skiing. She and her husband most enjoy spending time together backpacking in beautiful wilderness areas.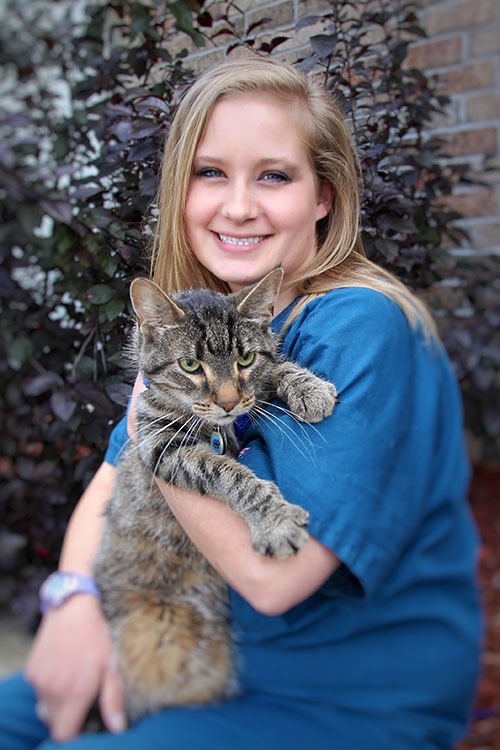 Britt
Certified Veterinary Technician
Britt graduated from the Veterinary Technology program at Globe University in Appleton in March of 2014. She loves working at Packerland because of the wide variety of cases that we see each day. She particularly enjoys watching the improvement of our physical therapy and acupuncture cases and loves working with our doctors on advanced diagnostics for sick patients. In her free time, she enjoys anything outdoors with her husband, daughter, and family. She loves bow hunting and was fortunate to get an 8 point buck for her first deer! She shares her home with her senior cat Charlie.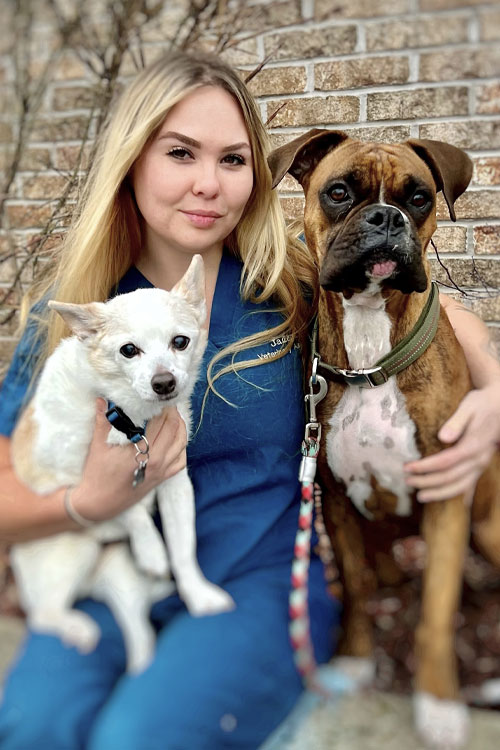 Jaden
Veterinary Assistant
Jaden was born in Vicenza, Italy and grew up as a military brat. In her free time she enjoys spending time with friends and family, reading and sleeping. She is a lover of all animals and wishes she could (and sometimes tries to) take them all in. Currently she has her childhood dog Odie, a 17 year old Chihuahua that she grew up with, who is still going strong. She also has Roman, a boxer, and 3 cats – Luna, Simba and Mama Kitten rounding out her household.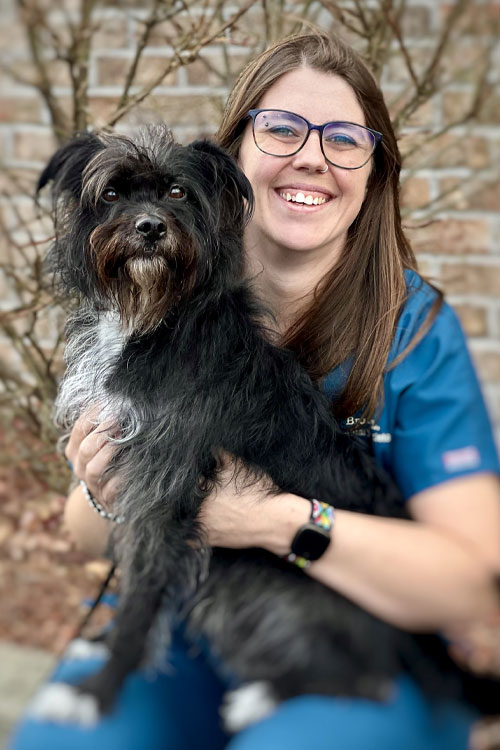 Brooke
Veterinary Assistant
Brooke grew up around horses which lead to her pursuing a bachelor's degree in Large Animal Science at UW-River Falls. She has worked at several boarding facilities as well as a research facility at the University of Minnesota. For several years she also worked as an assistant dog trainer.
She is a collector of hobbies, new music and crystals. In her free time she enjoys camping with her husband and stepson and is always up to try something new. She has three dogs that keep her busy – Willow, Raen and Zazz, and three cats – Moco, Ru and Mister Kitty, that keep her dogs busy.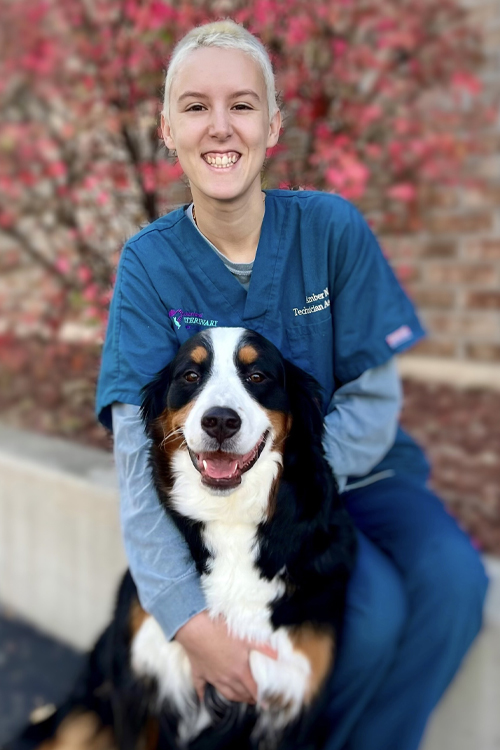 Amber
Veterinary Assistant
Amber grew up in Greenleaf and graduated from Wrightstown High School in 2019. In 2021 she joined the Packerland team due to her love for every animals she meets. She enjoys spending time with her dog Moxie and two cats Sandwich and Breadstick.
Lindsey
Veterinary Assistant
Lindsey grew up in Green Bay and graduated from Luxemburg High School. She grew up fishing and camping with family and likes to spend her free time doing crafts, taking naps and spending time with friends. She has always had a love for animals since she was very young. At home she has a cat named Ozzy who is always up to something and two fish - Blu and Little Man.
Eli
Veterinary Technician Assistant
Eli, soon after graduation from Wrightstown High School, decided to take up a job in a veterinary clinic. He is the son of a veterinarian and is often described as a romantic intellectual with a multitude of stories and ideas to share and has found that animals are often content to listen without judgement. Besides spending time with animals and telling crazy stories, he is most interested in the principles and practice of Parkour which is defined as the art of traversal between two points in space.
Bailey
Veterinary Technician Assistant
Bailey graduated from Luxemburg-Casco High School. She grew up bear hunting and fishing since she was just a couple of months old. Ever since she was little she loved all animals and always had at least 5 dogs while growing up.
Stacy
Professional Groomer
Stacy grew up in Green Bay and has always had a love for animals. Growing up, she wanted to be a professional pet groomer and after graduating from Preble High School she attended Golden Paws Pet Styling Academy in Marinette, Wisconsin and received her professional certification. She finds it very rewarding to use her skills to help animals become well groomed and healthy. In her free time she enjoys fishing, waterskiing, and spending time up north.
Hannah
Professional Groomer
Hannah has always had a love for animals. In 2022 she decided to pursue a career in pet grooming and hasn't looked back! She loves getting to know each individual pet and making them look their best. In her free time she can be found cuddling her calico cat Muffin.
Candi
Kennel Coordinator
Candi had an office job, but after realizing how much she preferred working with animals over people, she joined PVC in 2021 and hasn't looked back! Caring for animals is what drives Candi and what brought her to us. She is a lifelong animal lover who has found that her happy place is with rescue dogs. She has been involved with animal rescue for over 15 years. She has a long history with Green Acres Boxer Rescue and serves as a board member, foster home and volunteer for many events throughout the year. She has a special interest in fostering dogs with behavioral issues as well as medically needy dogs. She has fostered and placed over 100 dogs into their forever homes. When not working, Candi loves spending time with her husband, two kids and two dogs, Dozer and Stasha. In her free time she enjoys photography, hiking, crafting and kicking back for a lazy day at home.
Adam
Kennel Attendant
Coming soon...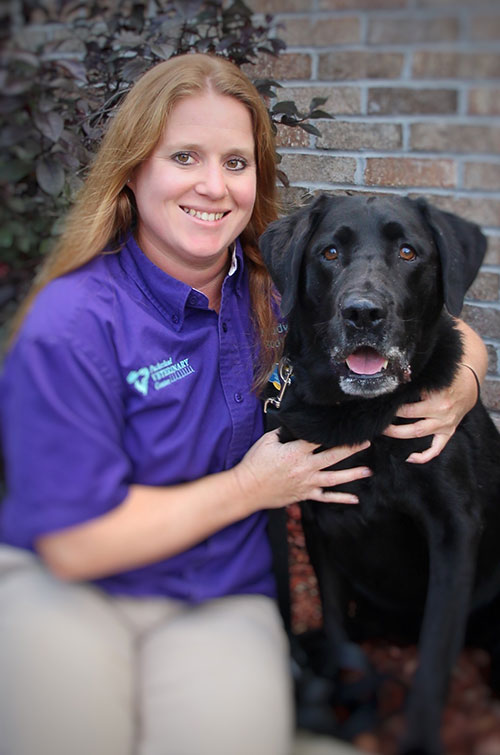 Mandy
Bookkeeper
Mandy first came to know PVC as a client. Impressed by the friendly and knowledgeable staff, she happily accepted the bookkeeper position when it was offered to her in March of 2009. Mandy's love for four-legged, furry friends made the job that much more appealing. Mandy is the proud fur parent of Joey, a Dalmatian mix and Thor a black lab. In her free time, she enjoys spending time with family and friends, camping and anything outdoors.