E-Alerts
Veterinary Acupunture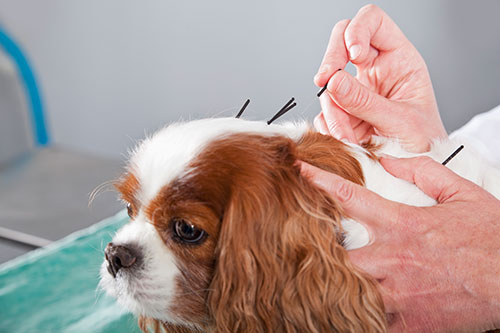 Acupuncture is defined as the act of placing a needle into the body at specific points. This ancient therapy from the east has become demystified as western medicine conducts research studies and identifies the unique pathways by which the treatments work. They have determined that the locations of acupuncture points coincide with nerve bundles penetrating the fascia, are in close proximity to major blood vessels, align with motor or trigger points as nerves enter or exit the muscles, and pinpoint locations where nerves exit the skull. Harnessing these sites allows the trained acupuncture professional to modulate the electrical currents running throughout the body to effect change.
Treatment with medical acupuncture and its related techniques of laser therapy and certain forms of massage help by promoting health and well-being, by preventing illness, and by addressing a variety of medical conditions and pain problems including:
Digestive ailments (inflammation and motility problems)
Respiratory issues (sinusitis and recurrent infections)
Neurologic problems (peripheral neuropathy, spinal cord injury, disc disease)
Musculoskeletal complaints (knee pain, osteoarthritis, tendinitis, back pain, neck pain)
Acupuncture is one of the latest treatment options available at Packerland and can be used as a primary therapeutic option or part of a custom multi-modal approach to disease.